News
By: BrooklynCyclones.com Reports
04/06/2017 1:34 PM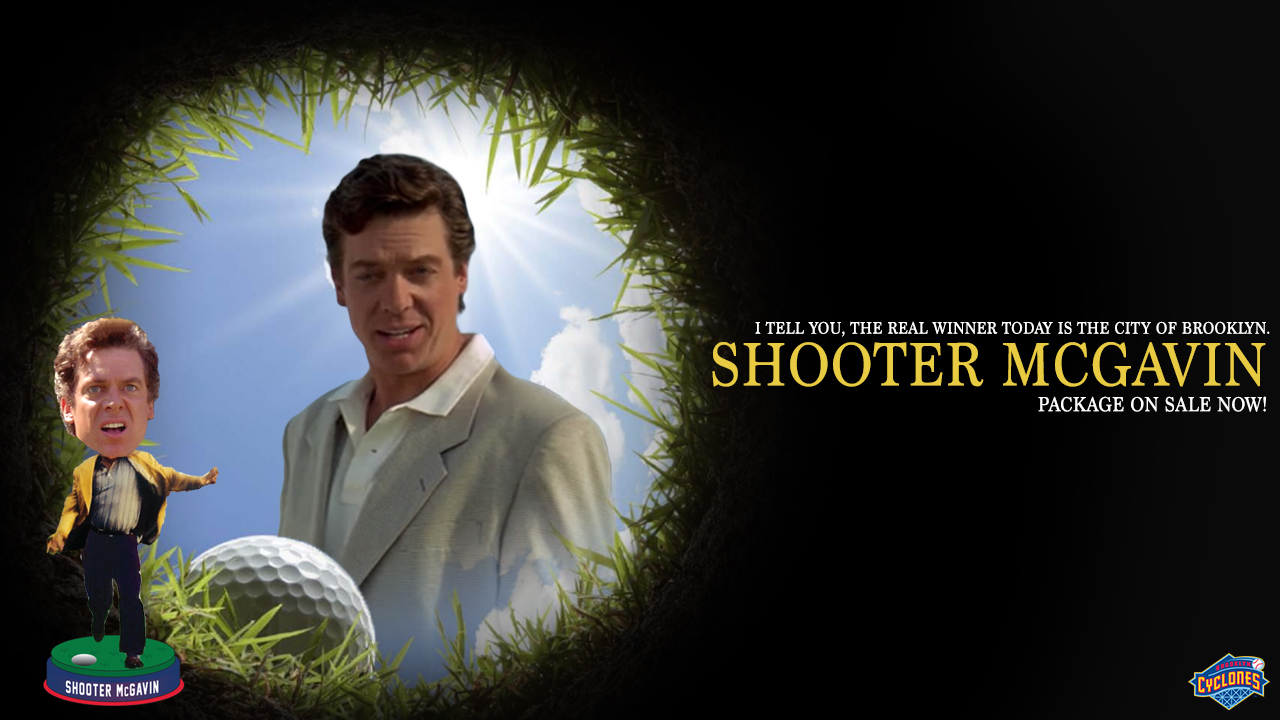 To Purchase the "It's Shooter's Tour" Package -- CLICK HERE
Use Code "Greenjacket"
In the movies, everyone always roots for the good guys. The clean-shaven hero with the shiny silver badge, riding in on his horse to save the day…it's a scene that we've all seen hundreds of times. But what about the villain? The one with the sinister laugh, or the crooked scar, that is an evil genius. Nobody ever cheers for the bad guy…at least nobody did until now.

On Wednesday, July 19th the Brooklyn Cyclones will hold Villain Appreciation Night featuring an appearance from Christopher McDonald, who famously played the role of Shooter McGavin in the hit film Happy Gilmore. As part of the evening's festivities, there will be a limited edition Shooter McGavin bobblehead doll available exclusively starting Thursday, April 6th at 10 AM. The bobblehead will feature Shooter running away with his "borrowed" gold jacket from the end of the film. The package, which includes a field box seat, will cost $20 and requires the code "GreenJacket."

Here's a look at what else is in store as we celebrate the bad guys who made us love them:
Norman Bates Dress Like Your Mom Race – Competitors will have to thrown on a mop top, house coat, and compete a race around the bases.
Hannibal Lecter Obsticle Course – Eat some fava beans and a nice chianti, put the lotion in the basket, and race like your life depends on it.
Why So Serious? – Joker face painting on the concourse.
Evil Queen Bobbing for Apples (hopefully it ends better for the contestants than it did for Snow White)
Annie Wilkes Escape "Misery" - We promise that no ankles will be broken in the making of this competition.
Name That Sound – is it Darth Vader breathing or someone else snoring?
Cobra Kai Sweep the Leg Contest…You got a problem with that?
Shooter McGavin's Breakfast of Champions – No it won't be actual pieces of $&%#. Contestants will have to chow down on bowls filled with Cocoa Puffs.
Hans Gruber Crack the Code – Contestants will have to put together a puzzle in a VERY timely manner. The loser, like Mr. Takagi, won't be joining us for the rest of his life. (Just kidding...or are we?)

And that's just the beginning. We'll be adding more details, as the event gets closer.

Single game tickets for the 2017 season will be available on Saturday, April 22nd at 10 AM. Group tickets, partial season and full season packages are available now by calling 718-37-BKLYN.
|
Back to index...